Tiffany Poon on Social Media
Tiffany Poon is an aspiring young classical pianist whose YouTube channel has over 64,000 subscribers at the time of writing.
Tiffany is also active on Instagram as tiffanypianist.
Tiffany's Mission
While many pianists are active on social media, few define their goals as clearly as Tiffany Poon. On her personal web site she states that her goal is "to inspire all generations, the old and the new, to appreciate classical music using social media".
What Fans Want
In another social forum, Tiffany Poon told her supporters that she wants "to break the boundaries and take you with me inside the world of a classical pianist".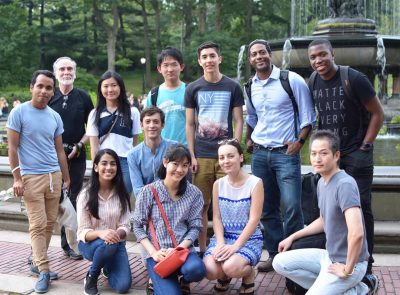 This is exactly what fans like myself want from a pianist like Tiffany. For us she is already a star, because she has many formal performances on YouTube and she's really good. If you heard her play, you would never guess that she is only about 20 years old.
It's Personal
I have exchanged pleasantries with top rank pianists at CD signings. Some are generous of spirit, but at root it's impersonal. That's not to say that Khatia Buniatishvili or Yevgeny Kissin don't appreciate their fans, but we must all be one big blur to them when they are on tour.
In contrast, an emerging pianist like Tiffany is actively building her fan base. Having studied music at Julliard and now at Yale. she is on track to an elite career. Social media engagement can be a competitive advantage, and she works hard on her vlogs (video blogs) to engage us.
When Ms. Poon made the gutsy decision to meet fans personally in New York, it was not to be missed. Around 25 of us made it to Central Park in the stickiest heat of August to meet her at Bethesda Fountain.
Tiffany's Vlog
Tiffany Poon's YouTube channel contains her vlog, filmed and edited by the pianist herself. She also does livestreams. These videos are uniquely Tiffany: well-presented, chatty, unpretentious and informative. She is a natural in front of the camera, talking to us as if we were friends sitting across from her at a coffee table.
Among my favorite vlogs is Mix – Can You Hear the Difference Between Before & After Piano Tuning? | Tiffany Vlogs #21. during which Tiffany and her viewers learn some neat stuff about piano tuning.
We have also been with Tiffany in practice rooms at Julliard, commuting to school in New York, eating out with her parents, in a supermarket, in a dining hall, and even on her one-way road trip from New York to Yale.
Meeting Tiffany
When I found Tiffany in Central Park, she looked as cool and presentable as in her vlogs, despite the humidity. She recognized me instantly (goodie points!) and chatted individually with everyone who came to meet her. We were a diverse group of all ages (but predominantly young) from all over the world, many of whom seemed quite awed to be in her presence.
Tiffany herself was uncharacteristically at a loss for words. Neither she nor any of us had thought about what we would do once we got together! There was no piano to fill gaps in conversation, no edit function to cut out awkward moments, no beer to cool us down and loosen us up. This was a real life experience that Tiffany had initiated, a bridge between performer and audience. We hung out with her until thunderclaps chased us out of Central Park.
It was almost sad that nobody at the fountain other than us knew that a leading pianist of the Post-Millenial generation was present that evening. I think again of Tiffany's ambitious mission and how important it is in this age, when a Chopin Etude on your media device may be referred to as a "song".