On March 20th, 2017, pianist Virna Kljakovic gave a recital at Lisinski Concert Hall (Lisinski Concertna Dvorana) in Zagreb as part of the Mladi u Lisinskom (Youth at Lisinski) program.
Lisinski was just a 5 minute walk from my hotel along Zagreb's wide urban corridor Ulica Grada Vukovara. This was the fourth and last performance by young Croatian pianists that I would see on this trip.
Virna Kljakovic
I first saw pianist Virna Kljakovic (bio here) perform on YouTube. Her Chopin – Nocturne in F Minor, Op 55, No 1 video has over 250,000 views now. But my favorite was her Bach-Busoni Chaconne in D minor BWV 1004. When I learned that this work was the anchor for her Lisinski recital, and that she would close with Schubert's divine B flat major Sonata, I started making plans. 4300 miles later, I was at the Vatroslav Lisinski Concert Hall.
Vatroslav Lisinski Concert Hall
Lisinski is Croatia's national concert venue, comparable in standing to New York's Carnegie Hall. The Mala Dvorana (Small Hall) at Lisinski is an intimate, modern performance space, somewhat larger than Carnegie Weill. The stage had a black backdrop, and the piano was a glistening black Steinway.
Bach – Busoni: Chaconne in D minor, BWV 1004
When the dark-haired Ms. Kljakovic entered wearing floor-length long-sleeved black clothing, the ambience was perfect for the somber grandeur of the D minor Chaconne.
This work is Busoni's arrangement of the Chaconne from Bach's 300-year-old Violin Partita No. 2 for solo violin. How do you make a piano sound like a violin? Well of course you don't (even in an arrangement for one hand). Busoni's dense harmonies make the piano sound more like an organ, and the arrangement is closer in spirit to Bach's D minor Toccata and Fugue BWV 565.
Virna Kljakovic is a physically powerful pianist, well-suited to the demands of this work. Her opening progression was strong but never overweight, and her restrained pacing made the stately Chaconne ebb and flow like the tide. She seemed equally at home using her left hand like the feet of an organist, or both hands in delicate passages in the upper registers.
I struggle to explain how Ms. Kljakovic managed to paint a Chaconne that is more satisfying than, for example, Helene Grimaud's. Grimaud is more refined, but Kljakovic's rapturous spirituality was compelling. Then there is Kissin. He has tremendous control, while Virna can blur more complex passages. But Kissin tinkers with tempo and over-interprets the finale, while Kljakovic closed with suitably direct and cataclysmic finality.
Franck: Prelude, Fugue and Variation in B minor, Op.18
Franck's poignantly evocative piece was a welcome contrast to the weighty Chaconne. Ms. Kljakovic's delivery was pleasantly lyrical, with adept pedal work that allowed Franck's harmonics to glow continuously throughout the work.
Blagoje Bersa: Mélancolie, op. 76
Blagoje Bersa is a Croatian composer and national treasure. As played by Virna Kljakovic, Mélancolie is a 3-minute salon jewel that swells up in a cloud of harmonics and ebbs away with hints of Gershwin to a reflective close. At moments it resembled the preceding Franck variations. Pianists please take note: Mélancolie would make an excellent encore.
Schubert: Piano Sonata in B Flat Major, D. 960
This famous Sonata opens with a widely-loved melody that sends shivers through this reviewer. For the pianist, every note and nuance must be perfect in order to maintain the spell. Virna Kljakovic had the opening mastered, allowing her to be at her most expressive. I admire how she risked holding back longer at key moments, to great effect.
In the second movement (Andante Sostenuto) the pianist's affinity for dramatic repertoire was evident. The performance was consummate Kljakovic, sonorous, reflective, and at times painfully beautiful.
The Scherzo was uneven, but the dancing bass of the Trio had clarity and punch. The closing Allegro, at times sounding like Beethoven, was delivered with engaging rubato and playful vigor. I had the distinct impression that the pianist was enjoying herself.
Authenticity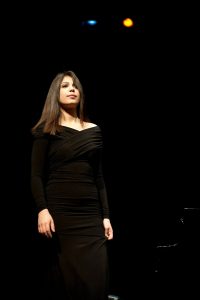 In live performances, we expect more from the pianist than can be captured as audio. From the showmanship of Lang Lang to the gravity of Kissin, top artists use every available modality.
Kljakovic's grace at the keyboard is noted by her YouTube followers, and was evident at Lisinski. I see similar expressiveness of hand and arm in other pianists from the Zagreb Academy of Music. Somebody there is doing a very good job.
There was no bravado or artifice in Virna Kljakovic's delivery. Every aspect of her performance was focused on authentic musical expression. When transported, she would tilt her head back and sing inaudibly. The last pianist I saw become so lost in her art was Khatia Buniatishvili, and the audience loved her for it.
Virna Kljakovic's audience loved her too. She took three rowdy curtain calls and on the last, gave the longest bow I have ever seen from a pianist. It was an unforgettable "thank you" from a unique young artist to her supporters.