Wynona Wang
I first met Chinese pianist Wynona Wang at a house concert in New York in 2021. I was so impressed that when I learned she was to play as a Concert Artists Guild artist in Rhode Island on October 8th 2022, I had to attend.
Core Memory Music
The Core Memory Music venue in South Kingstown, Rhode Island is a 3 to 4 hour drive along the I-95 corridor from New York. The time commitment made me hesitate, but fate intervened in the form of a message from Craig Maynard, founder of Core Memory Music. Could I swing through Manhattan and pick up Ms. Wang on my way?
And so early on concert day, I pulled over in Midtown to collect my passenger. I didn't recognize her at first, because New York is full of young Asians in skinny jeans. But up close she was the same Wynona Yinuo Wang whom I predicted would be signing autographs for us in a few years. I felt the weight of my responsibility to get this remarkable pianist to Rhode Island in one piece, on time, and rested. When she dozed off en route, I felt a sense of accomplishment.
As we arrived at Core Memory Music, a technician was making final tweaks to the sparkling 9-ft Steinway. Ms. Wang had told me that she finished learning one of the program works just a few days earlier. She needed time on the concert instrument to get ready. Soon enough, she was riffing through elements of the program.
Wynona's Wang's Program
The program for this event was unusually focused. It spanned compositions from a period of just 14 years at the start of the 20th century. As Ms. Wang explained to us, these works shared a common theme of grief that each composer interpreted differently.
In pre-recital chat, Ms. Wang identified Rachmaninoff as the composer she felt most passionate about. This may explain why I find myself so attuned to Ms. Wang's interpretations. Indeed the entire program was a feast.
The opening Scriabin Waltz was a flowing, melodious aperitif from a bygone age. In retrospect it served mostly to warm the audience up for what was to come.
Ravel's Le Tombeau de Couperin is a baroque-style suite written in memory of friends lost in war. Wynona's interpretation was elegant and restrained. Her second movement (Fugue) was impeccably timed, like jeweled clockwork. And I particularly loved her Forlane, a jazzified dance whose descending minor seconds gave me shivers. The closing Toccata was deftly executed but felt a little out of place.
In contrast, Janácek's Piano Sonata staggers with pain. Ms. Wang's slower second movement was spellbinding. At times she appeared immobile, her fingers barely moving. After the last notes faded, the audience was silent for 15 seconds. Partly this was because of the ambience that the pianist had evoked. But also it was because this work is unfinished, and Ms. Wang chose to let the audience feel that.
Rachmaninoff Études-Tableaux Op 39 No's 1, 2, 8, 9
While Rachmaninoff constituted only a quarter of Ms. Wang's recital, he overshadows much of the other repertoire with the sheer massiveness of his music (as well as his hands). Some of his works are "Russkaya Dusha" (Russian soul) personified. including these Études-Tableaux.
I hardly know where to begin with the Opus 39 Études Tableaux.  Ms. Wang's No 1 in C minor rocked us beyond words. She has so much power, and Core Memory Music's Steinway D has such a magnificent bottom octave, that she left us stunned in our seats.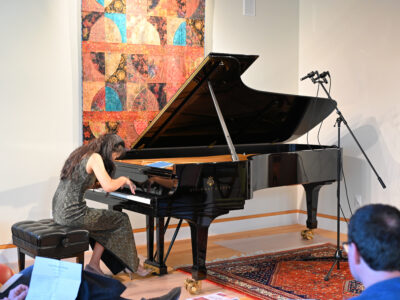 Then there's No. 2 in A minor, my personal favorite ever since I heard it played by my friend Ivan Gusev. Ivan, I know a Chinese pianist who takes this work to another level. Her name is Wynona Wang, and you need to hear her. I recorded her performance, here on YouTube.
As if that were not enough, Wynona also gave us No. 8 in D minor and No. 9 in D major. I am at a loss to describe how these works impacted the Core Memory Music audience. In their own words, I heard "wow, yay, bravo, BRAVO!!". In the words of Craig Maynard, our host, "So, Rachmaninoff is smiling. Wherever he is, he's smiling".
Closing Thoughts
Wynona Wang is a confident, impressive pianist who totally wowed the Core Memory Music audience. She plays with such authenticity and conviction that Mr. Maynard and I wondered, were she to make mistakes, whether we would even notice.
Ms. Wang has the passion, musicianship and audience appeal that are essential for success. We hope that her time with Concert Artists Guild will help her evolve to her full potential.