Bezuidenhout at Carnegie, October 2016
On Monday October 24th, 2016, my wife and I went to see pianist Kristian Bezuidenhout at Carnegie Hall, New York.  Actually I did not know this pianist, but the Carnegie Series that I subscribed to included his Beethoven-heavy program and it looked promising.
Mr. Bezuidenhout's name sounds Dutch. In fact he is from South Africa, a former Dutch and British colony. He lives in London, from where his trendy cosmopolitan clothing, stylishly tight with rumples, may have come. His patent leather shoes had beech-colored soles that matched the matte wood of Carnegie Zankel.
Carnegie Zankel Hall
This was the first time I had been to Carnegie's Zankel Hall. In photographs, Zankel looks modern and sharp. In person and up close from the Parterre, however, the luster was tired. The Hall smelled musty, and the stage front needed cosmetic work. Also, the Hall is a couple of levels below the ground, so from time to time I could hear the muffled bass of the New York Subway somewhere to stage right.
The Instrument
The piano was angular in design, with frond-like cinnamon artwork on the casing. Naïvely I assumed that this was a modernistic design in keeping with Zankel's styling, but many readers will know better.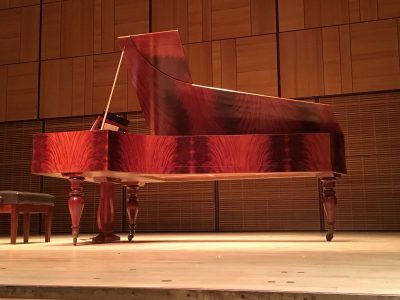 Beethoven Rondo in C Major, Rondo in G Major
Bezuidenhout opened with two Beethoven Rondos. I was struck by the fineness of his touch and his ability to separate voices, especially at the lower end. It was as if each voice were suspended in its own acoustic space. In part this was because the piano lacked the power of the traditional concert grand, so there was less "bleed" from one register to another. In the acoustic intimacy of the 600-seat Zankel Hall, this made the instrument sound as beautiful as it looked.
Expression and Gesture
As a young man I attended several seasons of the Leeds International Piano Competition. There I saw many fine pianists, including Radu Lupu and Victoria Postnikova, but I don't remember those performers as individuals. Now that I am older, I savor the uniqueness of each pianist's personal nuances of expression and gesture. For this reason we splurged on front-row seats, which gave us an unparalleled view of Bezuidenhout on stage.
There was no cultivated drama in Bezuidenhout's keyboard presence: his performance was all about the music. I noticed that Bezuidenhout's eyebrows were always on the move. His use of sheet music had a less-desirable impact, however. Leaning low over the instrument, he had a particular rightward glance that might in other circumstances be seen as "giving the evil eye". Try reading sheet music from a few inches above the left keys and you'll get the idea.
Beethoven Sonata No. 7 in D Major
When Mr. Bezuidenhout moved to Beethoven's Sonata No. 7 in D major, he drew the Largo out so exquisitely that I barely heard the rest of the piece or the subsequent Haydn.  Only the best pianists can capture my attention like this, so I will be scouring the web for more Bezuidenhout and for other renditions of this Sonata.
The Fortepiano
During the Intermission I browsed the program and discovered that the recital instrument was a not a piano, but a fortepiano. When Bezuidenhout returned, he gave an impromptu monologue about this instrument. He commented on the light action, the four pedals, how the strings were not cross-strung, and how the design gave the instrument its unique sonic character. In this modern replica, he explained, we were hearing the Viennese fortepiano as Beethoven would have known it.
Beethoven Sonata No. 8 ("Pathétique")
The last scheduled piece was Beethoven's Sonata no. 8 ("Pathétique"), a personal favorite that I never tire of. Mr. Bezuidenhout's Carnegie performance was stellar. While the fortepiano lacked the low end power of a modern concert grand, Bezuidenhout's interpretation retained all of the Sonata's drama.
Excellent and Informative
As an encore, Bezuidenhout played a Beethoven-like piece that I could not identify. It was a fitting close to the evening's 18th-century repertoire, performed on an 18th-century instrument replica. I enjoyed this recital much more than I had expected, and thanks to Mr. Bezuidenhout's short lecture I learned more about the fortepiano. Now I just have to find a fortepiano that someone will let me play!